Shooting in Pikesville Leaves Man Injured
Baltimore County Police continue to investigate the circumstances surrounding a shooting in Windsor Mill on Oct. 15.
Witnesses described an unknown hooded subject who approached a crowd of people on the parking lot in front of The Greek Village sub shop in the Milford Mill Shopping Center, 8059 Liberty Road, 21244 around 2 a.m. and began firing shots at the crowd. No one in the crowd was struck, but another adult male patron was unintentionally struck in the lower portion of his body. He was transported to a local hospital for treatment and is expected to survive his injuries. Detectives are still investigating to determine the circumstances and motive leading up to this shooting.
The Baltimore County Police Violent Crimes Unit is investigating this incident. Anyone with information on this shooting or suspect is asked to contact police at 410-307-2020.
Gwynn Oak Shooting Leaves Man Injured
Police are investigating a Sept. 18 shooting that has left a 23-year-old man injured in Gwynn Oak.
The victim was inside the vestibule area of an apartment building in the 5900 block of Franklin Avenue when he was shot multiple times by an unknown suspect. The victim was taken to an area hospital for treatment. Police believe that the victim was the intended target of the shooting.
Anyone with information on this shooting or the suspect is asked to contact police at 410-307-2020. The Baltimore County Violent Crimes Unit continues to investigate at this time.
Metro Crime Stoppers is offering a reward. Anonymous tips can be sent to Metro Crime Stoppers by phone at 1-866-7LOCKUP, text message (text "MCS" plus your message to "CRIMES" (274637), or online at www.metrocrimestoppers.org.
Milford Mill Academy Teacher Charged With Sexual Abuse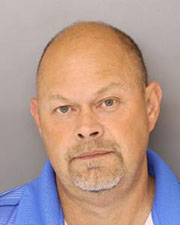 Scott Nawrozki, 54, of Fallston in Harford County, has been charged with sexual abuse of a minor and other sexual and child abuse offenses.
The investigation began when a juvenile student disclosed sexual activity with a teacher at Milford Mill Academy, Police say. The victim told officials that several incidents occurred on and off of school property in May and June.
The victim described sexual encounters inside the teacher's classroom and in the area of the Liberty Reservoir during school hours. The victim also told investigators that both sent suggestive photographs to each other during the time period.
If anyone has information about additional victims or information about this case, call the Baltimore County Police Department's Crimes Against Children Unit at 410-853-3650.
Nawrozki is currently being held on denied bail status.
Police Make Arrest in Reisterstown Double Shooting
Police have charged Omar Hamilton of Reisterstown with the Feb. 4 shooting death of Larry Lynch.
Police believe that Hamilton and another still unidentified suspect shot and killed Lynch during an attempted home-invasion robbery. Lynch defended himself, shooting Hamilton, but the other suspect fled the scene and was not apprehended.
Hamilton is charged with first-degree murder and use of a firearm during the commission of a felony. He is held without bail at the Baltimore County Detention Center.
Police Solve March Windsor Mill Homicide
Kevin Tyrone Glover, 37, of West Baltimore, has been indicted in the March 17 shooting death of Bernie Slater.
Video surveillance obtained by detectives depicts Glover approaching a vehicle on the parking lot of the Windsor Inn on Windsor Mill Road and speaking with someone in the vehicle, whom police believe Glover collaborated with in the murder of Slater. Glover is later seen approaching the driver's side of Slater's vehicle, shooting him, and then fleeing the scene with his collaborator. Slater is seen exiting his vehicle and crossing Windsor Mill Drive where he collapses to the ground in front of the Windsor Inn.
Glover is charged with first-degree murder and other offenses. He is currently in the custody for a violation of probation stemming from a prior conviction for a 2015 DUI offense.