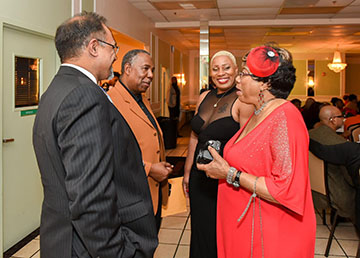 Eleven years ago, on a backdrop of dissatisfaction with state and county officials, a lack of economic development, and increasing crime, Danny Blount looked for a way to bring the community together. What resulted was a holiday celebration.
Thirty people attended that first event, known as the Combined Communities Holiday Celebration, in 2006. After a humble but determined start, it has grown into a grand, sold-out affair that attracts some 260 community members, friends and elected officials, including the County Executive. The 10th anniversary of the event was held on Dec. 3 at Diamondz in Randallstown. A spirited dressed to impress crowd looked festive in holiday colors, enjoying music and dancing, and a catered buffet.
Danny Blount, the 16-year president of the Hernwood Heights Association, is the holiday event's proud founder and chairman. "It's near and dear to my heart," he says. "The purpose of the Combined Communities Holiday Celebration is to bring people together in peace, love and fellowship."
The party has provided more than a fun get-together for the community during the busy and stressful holiday period. What people don't realize, Blount says, is that had it not been for the holiday celebration, the Combined Communities Advocacy Council of Greater Randallstown (CCACGR), an influential coalition of nine community associations, would not have been formed.
Blount hosted a cookout in his backyard and invited some of the veteran community leaders—people like Aaron Plymouth of Stevenswood, Tim and Pat Clark of Fieldstone, Virginia Jones and Eugene Jenkins of The Woodlands of Deer Park, Bet Martin of Birchwood and Emily Woodson.
Along with enjoying burgers and potato salad, the group got into a serious conversation about how to tackle some concerning issues. In the end, they decided to establish the CCACGR nonprofit, which is recognized by Baltimore County government as an umbrella organization for councilmanic District 4.
The journey is what Blount, CCACGR vice chair, calls "bridging the gap." He never would have met (through the late Ella White-Campbell) Aaron Plymouth, the current chair , and the others. "That's why it's important to bring communities together," says Blount. "You have to work at it, but the reward is priceless."
Over the years, the council has worked to block undeserving businesses from obtaining liquor licenses, to get new sidewalks installed and roads repaved, and rid the area of crime and grime—all to create a better quality of life for residents.
A native of Brooklyn, New York, Blount came to Baltimore in 1968 to live with his father and grandmother, both of whom retired from Baltimore County Public Schools. Blount got first taste of political activism as a 15-year-old living in the Northwood section of the city, volunteering for a candidate for Baltimore City Council.
After retiring from the U.S. Army, and during a 28-year career working as a mechanical technician for the U.S. Postal Service, he was a union official organizing employees, negotiating grievances, and serving as a state and national convention delegate. Currently retired, Blount is an appointed board member of the Baltimore County Human Relations Commission, representing District 4.
It was the search for "a very nice place to raise a family" that brought Blount to Randallstown in 1997. He has two daughters—Danyel, who works for the Postal Service, and Tonia, who works for Johns Hopkins Applied Physics Laboratory—and one grandson.
"I love being a community activist," he says. "I want to leave things better than I found them. It's important that people realize they are cared for."
"I want people to realize that they don't have to settle for poor leadership. Make it known that you want and deserve a better quality of life."