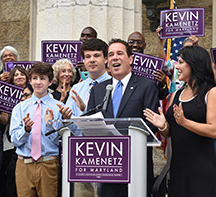 Baltimore County Executive Kevin Kamenetz officially threw his hat in the ring for the Democratic nomination for Maryland governor.
At his Sept. 18 announcement in Towson, Kamenetz walked on stage alongside his wife Jill and sons Dylan and Karson to Tom Petty's "I Won't Back Down."
Kamenetz told an enthusiastic crowd of community, religious and union leaders, elected officials, and other supporters that Maryland deserves bold leadership and experience that will bring results that matter, and that he was the one to deliver.
Calling himself a "tell it like it is" type of guy, Kamenetz insisted, "I am the best Democrat in the race to take on Larry Hogan and take back our state from the likes of Donald Trump, Paul Ryan and Jeff Sessions."
The former Baltimore City prosecutor criticized the Governor for not taking a long-term vision of the state and remaining silent against Trump's "harmful policies and shameful rhetoric." Kamenetz said he will fight to protect the religious, social and immigration freedoms of residents.
Kamenetz also pledged to create jobs, revitalize communities, protect the rights of workers, also provide access to better transportation and get relevant skills training.
A four-term Baltimore County councilman first elected in 1994, Kamenetz touted the county's $1.3 billion investment in school construction over the past six years. That plan featured construction of 16 new schools and 15 additions including Lyons Mill Elementary School in Owings Mills, Catonsville Elementary School and Westowne Elementary School in Catonsville, and the $50 million renovation of Pikesville Middle School.
With graduation rates having risen to nearly 90 percent and the graduation gap closed between African-Americans and whites, Kamenetz pledged to build upon what he called his legacy as a fierce advocate for public education and to be the "Education Governor."
After the demise of the steel mills at Sparrows Point, Kamenetz said he looks forward to some 17,000 new generation of jobs that businesses such as FedEx and Under Armour will bring.
Others who have announced their gubernatorial candidacy so far include Prince George's County Executive Rushern Baker, former NAACP president Ben Jealous, Maryland State Senator Richard Madaleno, former State Department official Alec Ross, attorney Jim Shea and former State Department official Krishanti Vignarajah.