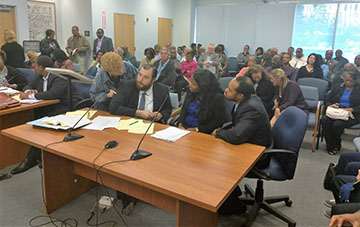 At the Randallstown Shopping Center on Offutt Road, among the businesses there are two popular restaurants—one an eat-in establishment that serves seafood, chicken and fish, and drinks, and the other a carry-out where soul food dinners are on the menu.
Many were surprised to learn that a third restaurant, Grind and Wine, will be coming to the shopping center. The news didn't come from a formal announcement. Word got around that a notice of a request for a Class B liquor license was posted on the door of vacated Café de Noir coffee, bakery and sandwich shop, and that a hearing was scheduled for Oct. 24 in Towson before the liquor board.
Emails began circulating and phones began ringing. At issue was not only the competition to Colins Seafood and Southern Blues, but that Kelly Carter, executive director of the Liberty Road Business Association, and Robert Friend Jr., owner of Identity Ultra Lounge on Liberty Road, were the partners requesting the liquor license, and, that Carter had not informed them of her plans.
Grind and Wine's menu will be different from Colins and Southern Blues, Carter says.  The eatery will be open for lunch and dinner and will offer overstuffed sandwiches and burgers, as well as beer, wine and liquor for those who want an alcoholic beverage with their meal. "It won't be a sports bar," she insists.
Some elected officials and community leaders say they support Carter's plans to open a restaurant, which they say is sorely needed in the Randallstown area. Others felt the shopping center, which also has a liquor store, did not need another restaurant that sold beer, wine and liquor. Most agreed that as a business leader who is active in the community, Carter should have been more forthcoming with her plans and solicited community input long before the liquor board posted the notice of a hearing on the door.
Dante Daniels, chef and owner of Colins, which opened to much fanfare three years ago with the support of elected officials and Baltimore County government, and Anthony Leonard, owner of Southern Blues, told the Northwest Voice they were unaware of Carter's plans until days before the hearing. Daniels said Carter had been in his restaurant several times but never gave him the courtesy of informing him of her plans. Southern Blues owner said he supports any business that will bring business into the shopping center.
Days before the hearing, Daniels, Carter and their surrogates began reaching out to the community members and customers to line up support. There were Instagram posts, petitions, phone calls and even a little arm-twisting. Some elected officials chose to stay out of the fight. The hearing room was packed.
At the hearing, when the judge asked attendees to indicate their support and opposition to the license by standing up, twice as many stood against than in support.
Under questioning by Daniel's attorney, Carter acknowledged at the hearing that she had been working on setting up the business a year ago but did not seek community input until "four to six weeks ago" in September. She shared that her $25,000 investment into the business came from money left by her father, who passed away last year from leukemia. She also admitted that she had no experience operating a liquor license or running a restaurant. Grind and Wine, she explained, would be a "white tablecloth restaurant without the white tablecloths".
Her partner, Robert Friend, who does have such experience as owner of Identity Ultra Lounge, said that he will be "in the front" running the restaurant, while Carter focuses on marketing and administrative responsibilities.
Shirley Supik, president of the Liberty Road Community Council, a group of various community organizations, was one of Carter's most vocal opponents. In the hearing, she said she considered Carter's actions unethical and expressed concerns that the restaurant will evolve into more of a nightclub atmosphere.
Virginia Jones, president of Woodlands at Deer Park Community Association, testified that she considered Daniels, who has served as a chef for Philips Restaurant, Legal Seafood and other major restaurants before opening Colins in 2013, like a son and believed there was enough community support to sustain both businesses.
Jenette Young, a local business owner and member of the LRBA, said the area needs more black-owned businesses and quality restaurants. She spoke in support of Carter.
After hearing a variety of testimony for some two hours, the liquor board commissioners approved Carter and Friend's request for the license with restrictions: The restaurant must close at 11 p.m. on Sunday through Thursday, and at midnight on Friday and Saturday. Live music and a D.J. is prohibited and there can be no off-sale privileges.
The judge may have been influenced by Daniels' attorney's revelation that Identity Ultra Lounge, formerly Sista's Place, was operating more like a club with hours of 5 p.m. to 2 a.m., yet had a Class B license, which is reserved for restaurants that sell beer, wine and liquor, such a Colin's and Ruby Tuesday, but that get most of their proceeds come from food sales.
According to documents related to the filing, Grind and Wine is trading under Great Food Choices II LLC. Identity Ultra Lounge trades the name of Great Food Choices.