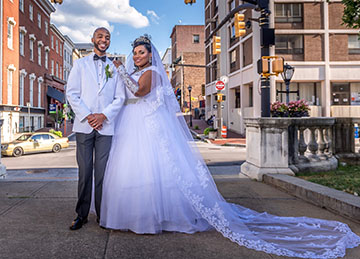 From the time they played games, did arts and crafts and enjoyed story time as playmates at a church day care center in Catonsville, Brandon and Myisha Maybin had a special connection. The four-year-olds were even crowned king and queen one year—a reward given to the girl and boy who brought in the most money for the school fundraising competition.
After a decades-long friendship, Brandon and Myisha tied the knot last summer.
"It was the best day of my life," beams Myisha, a 32-year-old social worker for the state of Maryland. During the conversation, they look at each other when they spoke and laugh often at some of the memories.
Throughout their school years, even while they had other relationships, Brandon and Myisha remained friends, picking up the phone to chat every once in a while and connect on Facebook. But they never crossed into romantic territory.
It wasn't until the topic came up about whether to attend the 10th year reunion for Western School of Technology in Catonsville, where they both graduated, that the friendship went to another level.
"That was Oct. 21, 2014," Myisha piped in, who remembers all the significant dates and highlights of the relationship.
The couple decided to skip the reunion, but then talked and texted every day. They scheduled a standing date night on Tuesdays for a movie at the Cinemax theatre in Towson —"since it was half price, says Myisha" — and on Thursdays for the latest episode of "Scandal" at her Timonium apartment.
"I called her and said, 'What are we doing? We've been spending a lot of time together,'" says Brandon, who also is 32 and works at FedEx. Myisha was afraid a romance might ruin the friendship she treasured, but gave in to her deepening feelings for Brandon.
"It was a feeling I'd never had before," she says. "We complement each other. There are no complications with him."
About Myisha, Brandon says, "She is very kind and very gentle, very loving and very encouraging."
Ready to take the relationship to still another level, Brandon says he picked out and paid for a ring, even before getting the advice of his grandmother, parents and friends. He was confident he wanted to marry Myisha, but valued the opinion of family and friends. If you're sure, they all told him, go for it.
On Nov. 25, 2016, at Myisha's favorite restaurant, Olive Garden in Owings Mills, Brandon popped the question to an unsuspecting Myisha and before parents, other family members and friends. "I told her that these have been the best two years of my life and I wanted to make it a lifetime," Brandon recalls. "She backed up," he laughs. "Then she started crying. Everybody started crying."
Eight months later, on July 15, the couple married at Carter Memorial Church of God in Christ in Baltimore, where both are members.
Saving every penny, they hosted a traditional ceremony, and had the reception at Preston Hall. Myisha said, "We were truly blessed by God. It was a God-confirmation marriage because everything went so smooth. It was awesome."
After a honeymoon to the Western Caribbean the couple has settled into a home in Windsor Mill. Because of their busy schedules, they set aside 6:30 to 8 p.m. each evening to relax with one of Myisha's home-cooked meals of cajun shrimp alfredo, meatloaf or chicken wings to eat while watching Family Feud, Jeopardy and Wheel of Fortune.
They are awaiting the birth of their first child, set to arrive in September.
Their advice to couples is: Be friends first. Communicate often. Don't be afraid to talk about the hard stuff. Be yourself. Don't be forceful.