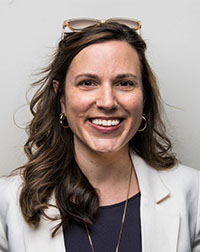 Alicia Amaral Freeman, an English for Speakers of Other Languages (ESOL) teacher at Franklin Elementary School in Reisterstown, was named the 2022-23 Teacher of the Year for Baltimore County Public Schools on April 28 during a celebration of the county's more than 9,000 educators.
Freeman was selected from among six finalists from across the county. The ceremony at the George Washington Carver Center for Arts and Technology was the first time since 2019 that the school system was able to celebrate the teachers of the year in person.
"Congratulations to Ms. Freeman, to all of our amazing finalists, and to each of our 159 Teacher of the Year nominees and their thousands of colleagues who, every day, demonstrate grace, determination, and excellence as they prepare our children for the future," said BCPS Superintendent Darryl Williams.
Besides Freeman, this six year's finalists included Muriel Olowokakoko, a Grade 4 teacher at Powhatan Elementary.
An ESOL teacher at Franklin since 2021, Freeman also teaches at Reisterstown Elementary and the Chatsworth School. She has had a varied and deep career teaching in both Baltimore County and Baltimore City schools. Following a six-year career as a Spanish and ESOL teacher in Baltimore City schools, Freeman worked as an admissions director and principal at the dual- language Archbishop Borders School in Baltimore before coming to BCPS in 2019.
"I am proud to work with immigrant students and families," Freeman says. "In them I see my grandmother, ashamed of her lack of access to education, and my grandfather, a janitor in a public school. I am proud to be their granddaughter, helping to cultivate this next diverse generation of new Americans."
The BCPS Teacher of the Year was chosen by a committee composed of BCPS administrators, staff, students, TABCO representation, and the current BCPS Teacher of the Year and Maryland Teacher of the Year Brianna Ross, an educator at Deer Park Elementary School.