Candidates for Governor looking to break through to undecided voters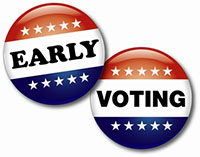 With the Gubernatorial Primary Election set for July 7-14, candidates are in a mad dash to the finish line, aware that their campaigns will end if they do not make it past the Democratic and Republican primary races.
For the past several weeks, citizens have observed an array of lawn signs—large, small and tiny— sprouting up like spring flowers, and even weeds, along roadways, at gas stations and on business park properties, and just about anywhere there is a plot of grass. Voters have been deluged with colorful glossy mailers featuring the smiling faces of candidates and their family members, highlighting their experience, platform and endorsements. Television ads are dominating the airwaves.
In the end, voters will decide who is the best candidate for statewide, federal and local offices.
Governor
In Baltimore County, voters will choose a Governor and Lieutenant Governor, Comptroller, Attorney General. In key local races, voters will elect a County Executive, State's Attorney, and representatives to the Maryland Senate and House of Delegates, and Baltimore County's Democratic and Republican State Central Committee. Voters will also elect a member of Congress to a two-year term.
Polls indicate that the governor's race for a Democratic winner is in a statistical dead heat between Comptroller Peter Franchot, former nonprofit executive Wes Moore, and former chair of the Democratic National Party Tom Perez. Polls indicate a significant percentage of voters remain undecided.
Former Prince George's County Executive Rushern Baker III dropped out of the race in June, citing a lack of funds, and six candidates remain: Jon Baron, Doug Gansler, Ralph Jaffe, Ashwaini Jain, John King and Jerome Segal. Interesting, all but two of their running mates are women of color.
On the Republic side, some polls have Trump-endorsed Dan Cox edging Kelly Schultz, the former Secretary of Commerce who has been endorsed by Gov. Larry Hogan.
Comptroller
With Franchot opting out of the Comptroller's race and instead running for Governor, candidates Brooke Lierman, an attorney and Baltimore City delegate, and Tim Adams, mayor of Bowie and CEO of a technology company, jumped into the ring to become the state's chief financial officer. With a catchy theme, "Let's roll, Maryland," Adams is looking to address inequities and open economic opportunities. Lierman who has the backing of many of her colleagues in the Maryland General Assembly, is also advocating for financial equity.
Attorney General
Two candidates connected with former governor and Baltimore City Mayor Martin O'Malley are squaring off against each other in the contest for Attorney General. The retirement of Brian Frosh after two terms as the state's top prosecutor prompted two highly regarded candidates to run without an incumbent in the race. U.S. Rep. Anthony Brown is an Army veteran, attorney, and congressman representing Prince George's County. Brown also is a former state legislator and O'Malley's former lieutenant governor. O'Malley's wife, Katie O'Malley, is a former assistant state's attorney who retired last year after 20 years as a District Court Judge for Maryland.
State's Attorney
Another race to watch is that of State's Attorney for Baltimore County. Are voters ready for a change? Scott Shellenberger, first elected in 2006 with a tough-on-crime stance and returned to office three times, has his first challenger in Robbie Leonard, a private attorney and secretary of the Baltimore County Democratic Central Committee. In recent political forums, Shellenberger, who has not faced a Democratic challenge in 22 years, highlighted his deep experience as a prosecutor.
Leonard emphasized his work as a public defender advocating for victims and as a private attorney. He criticized Shellenberger as being a voice of the Fraternal Order of Police. Using documentation provided by the Baltimore County Police Department, Shellenberger found that Officer Ruby was justified in the 2016 fatally shooting Randallstown mother Korryn Gaines and seriously injuring her 5-year-old son. When the Baltimore County Council held hearings on police reform, Shellenberger, Baltimore County police chief and FOP all pushed back.
Senate and House of Delegates
Redistricting changed the political boundaries of several districts in western Baltimore County and prompted several candidates to run for office. There are some new and returning players campaigning to represent Districts 10, which includes Randallstown, parts of Reisterstown, Owings Mills and Windsor Mill, and now dips further south; and District 11, which has been subdivided into Owings Mills and Pikesville. District 44 remains subdivided but no longer includes Baltimore City but adds more of the southwestern area.
In District 10, four candidates are vying to become Senator and succeed Delores Kelley, who retired after 24 years in the legislature. However, the races are expected to come down to delegates Ben Brooks and Jay Jalisi.
Jalisi, a Reisterstown Democrat was reprimanded in 2019 by the House of Delegates 136-0 after a legislative ethics investigation (See the report of the Joint Committee on Legislative Ethics) under former Speaker Michael Busch found he used abusive behavior toward his staff and did not pay them for time worked. He was directed to take anger management classes. Jalisi is counting on his social events and new voters from Districts 44 and 12 that may not be familiar with his record to give him a promotion.
Brooks, who touts his experience as an active community member and advocate for financial literacy in schools and tax enhancements, is counting on voters to send him to the Senate. Brooks is part of the Unity Team, which includes Speaker of the House Adrienne Jones, attorney Scott Phillips and Jennifer White, a senior policy and community engagement officer t.
Jones, Phillips and White are among the 10 candidates running for House of Delegates. Others include new faces such as Reuben Amaya, former school board student member, and perennial candidates such as Michael Brown, a retired state correctional and juvenile justice executive and criminal justice instructor.
In District 11, Shelly Hettleman, who was appointed to replace Sen. Bobby Zirkin when he resigned in January 2020, is unopposed. In the race for House of Delegates, former school board member Cheryl Pasteur also has no challenger in the new District 11A, Owings Mills. That leaves three incumbent delegates, Lisa Belcastro, who was appointed to the position, Jon Cardin and Dana Stein, executive director of a nonprofit, to fight it out for two seats in District 11B, Pikesville.
District 44 is also a race to watch. Sen. Charles Sydnor III, a former delegate who was appointed to the position in 2020 after Sen. Shirley Nathan-Pulliam resigned, is up against Ilyas Chohan, a business owner.
Among the six candidates for House of Delegates are Bishop Barry Chapman, a business owner and retired state executive and union official, Patrick Cusick, a program manager, Aisha Khan, a business owner, and Aletheia McCaskill, business owner and union official, Shazia Shah, a business owner concerned about human trafficking in the county, and Del. Sheila Ruth, a community activist who was appointed to the House in 2020.
County Executive
First-term County Executive Johnny Olszewski is expected to win against his sole Democratic challenger. There are two candidates competing for the Republican nomination.
County Council
After a contentious battle that ending in a successful lawsuit by the NAACP and county residents to redraw Baltimore County's political boundaries in order to give more blacks and people of color a fairer opportunity in elections, four African American candidates threw their hat in the ring in four districts.
Councilman Tom Quirk is not running for re-election in District 1. Danielle Singley, a Baltimore County program manager, is competing with two-term Delegate Pat Young and three-time candidate and business owner Paul Dongarra. Singley chaired of the Randallstown NAACP's task force to revitalize Security Square Mall and was instrumental in getting attention focused on the mall.
Dongarra is claiming that by turning in a local developer to a special prosecutor for illegally funneling money to Councilman Tom Quirk, he helped provide funds to revitalize Security Square Mall.
In District 2, Tony Fugett, a state budget and management director and former president of the NAACP Baltimore County, is taking on Izzy Patoka, a first-term councilman. Fugett was key in pushing the county on increasing affordable housing.
Though Julian Jones, who as chair of the County Council pushed back on proposed maps to increase minority representation in his district and others, is unopposed in the Democratic primary.
On the east side, Crystal Francis, former chair of the Baltimore County Democratic State Central Committee, is running in District 5, and hopes to take on the Republican incumbent. Shafiyq Hinton, who is in real estate and health care, is running in District 6 for the seat left vacant by incumbent Cathy Bevins.
Board of Education
With myriad issues taking center stage in public schools, such as critical race theory, safety and security, learning loss, and mental health challenge, more attention is being focused on the elections for Baltimore County Board of Education. Since the elections are non-partisan, candidates' names will appear on both the Democratic and Republican ballots. The top two vote getters in each district will move to the General Election.
Western Baltimore County is covered by District 1 (Catonsville, Windsor Mill and Lansdowne), District 2 (Lochearn, Pikesville, Owings Mills) and District 4 (Randallstown, Reisterstown and Owings Mills), and those districts are the only ones in the county with run-off elections. Robin Harvey, a social worker and small business owner, is one of three candidates running for school board for District 1. The current representative, Lisa Mack, is not running for re-election.
In District 2, LaShaune Stitt, an educator, is one of three candidates for the school board. Stitt is hoping to continue the work of Cheryl Pasteur, who resigned as District 2's representative on the school board to run for the House of Delegates.
Four candidates are vying to replace Makeda Scott, who served four years on the board, including one year as chair. Scott is not running for re-election. On the ballot for District 4 are:
J. Michael Collins, a member of the Republican Central Committee, Samay Singh Kindra, a law student and member of the Democratic Central Committee; Brenda Hatcher-Savoy, a member of several county commissions; and Autrese Thornton, a former educator who works with adults with disabilities and certified life coach. Thornton is making her second run for the board.
Baltimore County Democratic State Central Committee
The races are wide open for the Central Committees. In District 44, George White, Northwest Voice photographer and community activist who attends just about every major event and activity in the west part of the county, is running for re-election on the Central Committee. White, a military veteran, also volunteers with the homeless and is a member of the Woodlawn Senior Council. Chapman, also a community advocate, is also looking to be re-elected to another term. Incumbents Danny Blount, Danyell Winkey Smith and Baltimore County NAACP President Danita Tolson are running for re-election in District 10, and Linda Dorsey-Walker is running in District 11.
Congress
For Congress, the incumbents in the redrawn districts representing the northwest are expected to cruise to victory. Representatives Dutch Ruppersberger, District 2, John Sarbanes, District 3, and Kweisi Mfume, District 7, have little competition.