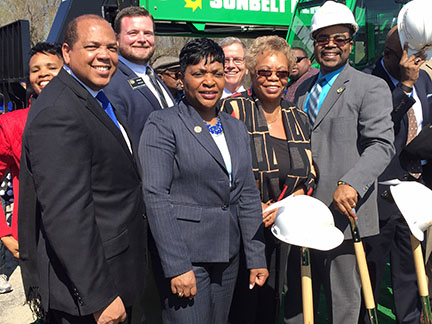 More than 500 people turned out to celebrate the long-awaited groundbreaking of Morning Star Baptist Church of Baltimore County in Woodlawn. The church, currently located on Winters Lane in Catonsville, is constructing a new house of worship at Woodlawn Drive and Security Boulevard. It will be its fourth site in its nearly 120th year of existence.
The Woodlawn High School marching band led the ministry's Bishop Dwayne Debnam and other leaders from the church's nearby Renaissance Center building to a stage set up in front of a large bus draped with a vinyl rendering of the new church.
A high-spirited program
The high-spirited hour-long program featured singing, remarks from the project team and ministers, and citations from elected officials.
"This has been a long journey coming. The Lord has done what he said what he would do in his time in his season," Debnam said. "We are so excited to be able to come and celebrate and formally declare that we are here in Woodlawn now."
Debnam drew cheers when he introduced the project team and minority general contractor, Kevin Johnson, who pledged that the church would be delivered "on time and on budget."
The appreciation continued when Del. Adrienne Jones, speaker pro tem for the Maryland House of Delegates and chair of the Appropriations' capital budget subcommittee, announced that a $250,000 grant had been secured for the ministry's family life center.
Mary Manokey, 97, a longtime Catonsville resident who has been a member of Morning Star for 85 years, recalled the church's humble beginnings and expressed gratitude that she could participate in the ceremony.
Outgrown the space
Since Debnam became the church's tenth pastor in 1996, the revitalized ministry has grown from one Sunday worship service with a few hundred regular congregants to three services and more than 3,000 members. The church operates a day care center, and holds classes and various activities throughout the week.
"The ministry has simply outgrown its present Catonsville location and requires more space for parking, worship and their crucial community ministry programs designed for children, youth, adults and seniors," according to Minister Anthony Brown, who emceed the event.
Features of the new facility
The building will offer seating for 1,300 persons—more than double the seating for the current sanctuary—and additional space for Christian education classes and administrative offices. The family life center will include a day care center, banquet facility and activities for seniors and youth.
The new 49,000-square-foot facility will be constructed over the next 18 to 24 months with an anticipated opening of late 2017 to early 2018, the bishop said. "Morning Star's charge is clear — we want to build and rebuild lives. The building becomes a means to that specific end."
Church officials looked at the Woodlawn site after a requested zoning change to expand the building across the street from its existing Catonsville location failed. "This site is even better and it fits this campus like a glove," architect Henry Onochie said of the 120,000 square feet of building space.
Debnam said the new ministry will reaffirm Morning Star's commitment to building and rebuilding lives. "It is championing a vision intended to transform lives spiritually, professionally and emotionally." People will be able to reshape their lives and mature not just financially but spiritually.
The event culminated with the ceremonial groundbreaking where some two dozen people who donned hard hats and shovels pitched dirt to applause. The day also featured music, food truck and special activities for children.
Leave a comment below.