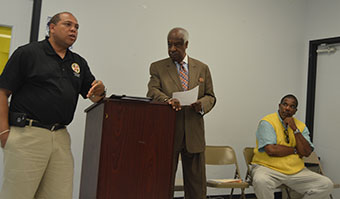 On any given day as you travel on the congested single-lane Windsor Mill Road, you might observe people carefully walking or bicycling in the street, as vehicles zoom by in both directions.
Amanda Lewis, who had gotten off the #44 bus on Woodlawn Drive from her job in Baltimore City, was walking up Windsor Mill Road to pick up her three- and six-year-old from the Emmanuel Church Day Care Center. "It's not safe," she said, "especially when you're going uphill and it's raining. Then you see people on the phone."
The community's safety is at risk, says former State Delegate Emmett Burns, who lives in Woodlawn and pastors Rising Sun First Baptist Church on St. Lukes Lane off Windsor Mill Road. And sidewalks are urgently needed.
Burns recalled that a number of accidents have taken place on Windsor Mill, which is lined with homes, as well as child care centers, restaurants, commercial businesses and churches. In February, a 30-year-old man was fatally struck by a vehicle in the 6700 block of Windsor Mill Road.
Aaron Barnett, president of the District 44B Democratic Club, called on District 4 Councilman Julian Jones for an update on the county's proposal to install sidewalks and how the county planned to solicit input from property owners.
Last year, Burns and Barnett spearheaded the collection of  signatures from homeowners who were amenable to granting the county the right of way to acquire the portion of their property necessary to add sidewalks.
Jones praised the community's legwork and called the sidewalk construction one of his priority projects. At a recent District 44B Democratic Club meeting, Jones explained that the county will install curbs and gutters in two phrases: from Woodlawn Drive to Featherbed Lane and Featherbed Lane to Corinthian Inn. He projected that the engineering plans would be complete in September and the total project might take three years.
In the meantime, attendees suggested, the county should consider installing reflective strips.
The most challenging part of the process would be the county's negotiations with homeowners for the right of way for an agreed-upon price. As a last resort, the county could condemn a property and offer the homeowner a fair price. Jones did not know how many homeowners' properties would be involved.
The cost of the project is $8 million, Jones said. Funding will come out of future budgets, but "money is not a concern for this project."
It's important that people be proactive on issues, Barnett told attendees, urging them to be informed, be active in community and political club meetings, and contact elected officials. "We must let the county and Annapolis know that we support our elected officials," he said.